After churning out
Part 1
and
Part 2
, the dude TS throws the lob up (it is March Madness) to your boy Twaan who throws down the tomahawk for today's third and a soon to be released fourth installment of KWT's 12 Artists to Watch in 2012. We keep it New York in Part 3 with a trio of upcoming spitters who put on for The Big Apple.
Don't recall our earlier segments? Here's the rub.
These are the guys we believe are poised to make big breakthroughs in the coming months. Forget about
XXL's list
, everybody knows those dudes were selling spots. Forget about
MTV's list
, everybody knows they were smoking angel dust the entire time. Kids Wasting Time's got you.



Hit the jump to see our list/leave a comment telling us we missed out on French Montana. Oops, spoiler.
Artist:
Emilio Rojas
Hometown:
Rochester, NY
Follow:
@emiliorojas
Essential Listening:
Breaking Point
Get Familiar:
"Breaking Point"
Fresh off his BBC-hosted (yeah, he's got that Pharrell cosign)
Breaking Point
mixtape, New York emcee Emilio Rojas is finally receiving some of the much deserved buzz that his music has warranted all along. Rojas has been and remains one of the most lyrical rappers on the come up, giving him a different feel and audience base than most of today's "swag" rappers.
Dude spits that real, relevant, emotional ish (disregard
"P@$$Y & COLOGNE"
), almost giving him the feel of a young Lupe who's highly capable of going off at any moment with his quick witted, rapid fire flow (check his, Laws' and K.R.I.T.'s
"Hold Me Down (Remix)."
With his powerful, sometimes even political lyrics, Emilio gives fans of real hip hop something to applaud, staying far, far away from rappers like Lil Wayne and Drake.
While his previous three tapes were chalked full of such rhymes, with
Breaking Point,
it seems Rojas was attempting to show us he could be just as successful in a more mainstream role. Somehow, he does so seamlessly, refusing to give up his signature lyricism while potentially gaining a much more widely appreciated sound. Exhibit A is "Take A Look Around," which I could picture getting radio play despite his emotional story-telling raps.
Rumors have circulated of Maybach Music Group inking Rojas, and although I don't see him fitting in well with Rozay, Meek, and co., such a deal with give him the perfect opportunity to display his newly found underground-gone-mainstream style. I see just that happening for Rojas in 2012.
Artist: Action Bronson
Hometown: Flushing, Queens, NY
Get Familiar: "The Madness"
Though many might claim last year was his breakout season, we believe Bam Bam's 2011 campaign was just the tip of the iceberg. Boasting an old-school style and impeccable beat selection (dude's fresh off an
entirely Party Supplies produced mixtape that should prove my point
), Flushing, Queens' gourmet chef turned hard-hitting emcee flourished in the blogosphere thanks to a Ghostface Killah-esque voice and flow and even a featured appearance on Wu-Tang's
Legendary Weapons
project.
Bronsollini delivers intelligent, gritty, and vividly detailed lines, creating an image for himself that's much different than his physical appearance, making him an interesting, mysterious, and completely unique figure in today's hip hop game. As he continues to get the spotlight shone his way, these characteristics should undoubtedly widen his fan base, making him a hot commodity of the coming months.
While I never see Bronson receiving radio play (trust me, that's not a bad thing), I'm expecting dude to gain a huge underground following in 2012, and with his thought provoking punchlines and fixation on fine cuisine, I'm expecting him to thrive here as one of the most talented rappers most are sleeping on.
Artist: Hoodie Allen
Hometown: Long Island, NY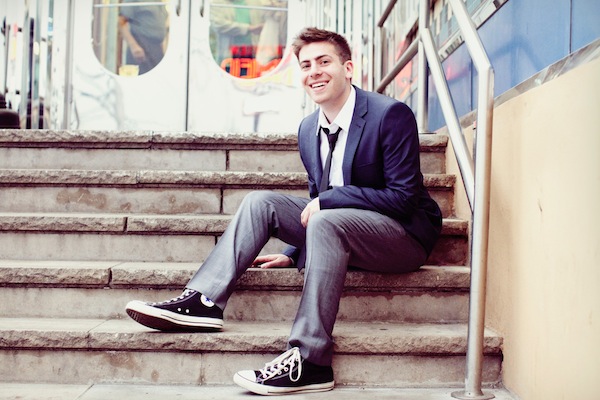 Get Familiar: "Can't Hold Me Down" (feat. Tayyib Ali)
Since when have rappers had to have grown up in a problematic environment to be successful? Since when have hip hop lyrics had to fixate on overcoming one's struggles? While that blueprint is a successful one, Hoodie Allen is proving that one's history and upbringing isn't a gauge of how successful they can be in the hip hop industry.
While Long Island, NY isn't exactly the Mecca of rap, with the rise of Hoodie, Long Islanders finally have a hometown emcee to bump to. Despite his recent graduation from UPenn and his departure from a surefire lucrative career with Google, dude's affinity for dope production, catchy rhyme schemes and crazily witty punchlines ("January Jones"'s own "I told her I'ma Cruise, Holmes/yep, like Suri) show that he's much more than your typical white college rapper.
Skyrocketing in popularity and even selling out countless shows in 2011, Hoodie still isn't to the level he's aiming for. With surely a couple projects lined up for 2012 (one of which is hopefully is debut LP), we fully expect this year to be Hoodie Allen's coming out party, all hipster and rich boy stereotypes aside.









Share on Facebook and Twitter, if you so please. Leave a comment too, if you're so inclined. It's as easy as picking a name and putting in an email. It doesn't even have to be a real email. We appreciate any and all feedback, so let us have it.