Well, well, well, the jabbing paddy-cake continues with diss records and tweets and all sorts of tomfuckery. Are we surprised (If you need to catch up, there's a great list
here
.) We must do our due diligence as spectators to all this competing, and ask ourselves where are our heads at? Are we considering all the angles, and noting successes and failures?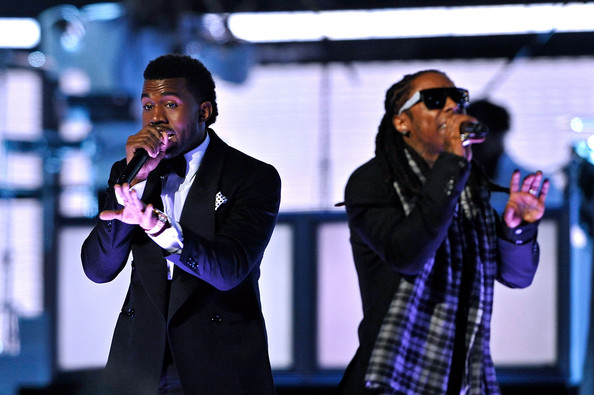 I get it popping about this type of shit, under the hood.
I know that I need to start this article with a big statement, so how about, "Pusha T will emerge as the victor against Weezy". Is that big enough for you? Everyone's drawing lines, and that's where I stand. But, it's not because I'm a crew groupie or anything. I'm not a delusional GOOD Music stan. No, I think Mr. Thornton will beat Wayne for business reasons. Or, if you're David Stern, "business reasons".
The jury's out on the Illuminati (wink), but let's not fuck around and pretend like rap isn't a business, and in a business, business-like activities occur. The activity in question? Increase Pusha's fame by having him beat the biggest rap star alive in a feud. Pusha's good-looking (and iconic looking) enough for stardom (big-time pause on that statement but the guy is a magazine cover type personality) and he also has a great rap
character
, complete with a backstory, street-certified toughness and endless daring tales. You know Yeezy already has huge records in the pipeline for the album (honestly, we do not realize how easy it is for people in this industry to create hits), but he probably wants to prove his ability as an A&R is equal to his to become uber-famous. The right combination of face-melting music, and rabid, controversial attention creates stars. Mega-stars.
Yeezy was a fan of Jay, and he certainly went out of his way to help the man along in his career. Yeezy was also fan of the Clipse. He's gonna use the blueprint for how to get your ass up off the critically-acclaimed sideline and into the glorious mainstream. I don't know if that logic makes sense, but it feels good to write, and it feels good to read.
You're probably thinking, well why the fuck would Wayne want to help out Kanye in this endeavor? Well, the media attention is good for the Young Money camp, that's for certain. It's good for Wayne's sales too, and as this is the same guy that waited to unveil his Beyonce-referencing retort to Jay in order to boost
C4
's commercial impact, you can bet your ass he considers stuff like this. Further, Wayne and Kanye seem to have a great understanding of each other. An understanding of who they are, and what they mean in a cultural/historical sort of way, and other types of close-minded, brain-inter-connectivity. I know this is me assuming, but the music they make together, and the specific times in their career that they've looked to each other for assistance shows a startling depth to their relationship. There are even pictures of them together (at NBA games), which would be weird unless you realize that shots at the Throne (from Wayne at least) are directed at Jay solely, and not that other influential culture-crafter in the duo.
So yeah. That's my bet for who will win the feud. Hopefully the bookies consider this official and I get my lucrative payout. Maybe I should've just written
PUSHA T OVER LIL WAYNE
.
The next thing I wanted to chat about was the all-important crew question. The question is "which crew is the hottest", and as sad as it is, it's something I've been thinking about lately. Of course, there's a few different angles you could approach this question from. Someone could say Young Money is the hottest, because look at the the numbers for the latest releases from the Big 3. Wayne nearly bagged a mill in a week, Drake did 630k and Nicki grabbed 230k, which admittedly is lower than people expected but she just so happens to be one of the biggest stars on the planet. To add to Young Money's riches, Tyga actually got it popping this year as well, reaching a height that was a lot higher than I thought he'd have been able to reach. Statistically, Young Money does their thing. Also, I've just decided that maybe Wayne is a good A&R? I mean, he saw that Nicki Meenaj (as he said all those years ago, when hyping her signing) would be a star, and nabbed Drake before Toronto had really noticed him. He had the good business sense to turn Tyga into a rapping rapster, instead of some alt-hipster-hippie,and this has paid off tremendously. Honestly, not a bad track record for the Martian (if LT and Twaan actually read these, and they don't, they'd be grinding their teeth at this sentence. Not fans of Wayne, not in the slightest. Actually, upgrade from "not fans", they're amongst his bigger haters).
I could see you arguing Maybach Music, too. I mean, Ross is doing his thing big these days, working away at the line between where he is, and that vaunted plane the rap kings occupy. Further, between him and Meek (and French even), they create the most popular street music of the moment. And the last few moments. They also have Wale, one of those "early-days of blog rappers" type rapper, the type that seemed destined, along with Drake,
and Charles Hamilton
Asher Roth and Big Sean for iconic stardom. He might just make it there after all. Ross and he have played up his misogynistic, swaggerific edge, and in doing so have made him strip club certified. As well, by choosing a Drake-lite blueprint, they're enjoying Drake-lite success. Rick Ross, under his MMG banner, led Young Folarin back from the brink. So, just like Young Money, the man upstairs is good at this business thing. Rozay even grabbed Milly, and you can sneer and say he doesn't compare to Drizzy's success, but he might just one day. Meek is in the early days of his career, a career that might just see him placed amongst the vaunted class of street acts that crossed over to the mainstream. What else? A compilation on the way, some HUGE mixtape releases (Wale, Stalley, Rick Ross, Meek Mill) and records popping on the radio. Not a bad case for MMG at all.
Who else? Bad Boy? Don't make me laugh. The Coke Boys? You don't like them? You don't like they're notable acts such as Charlie Rock, Cheeze, Flip and Chinx Drugs? Clear pass on that one.
How about Bricksquad?
I can't hype them, or their music enough, but no. Their best claim was when Waka was blowing up, or before that when Gucci seemed poised to be the next Lil Wayne.
GOOD Music? What about them? How's their claim? They have Kanye, which is undeniably important. They also happen to have a great roster of artists, but I have to say I don't think their time has come just yet. Cudi's a star and Big Sean was just welcomed into the mainstream recently, but there's not a ton of individual success outside of that. Pusha is still a mixtape (solo) artist, and so is CyHi, but he gets even less attention. They're more a label on the verge. Q-Tip hasn't made any definitive moves yet, nor has Mos. 2 Chainz might be on the roster, and Thornton and Da Prynce are both waiting for their Big Sean-type shot. These are all post compilation promises, and with that disc looking like it might just be another dose of classic from Mr. West, the future is bright for the crew.
So I provided analysis, and didn't choose which team I actually thought was the hottest? Well fine. MMG. It's tough to argue against YM's dominance, but still. The Maybach crew feels more like an aesthetic, so there's more togetherness. Wayne's gang is more a bunch of singular talents. Plus, Rozay's house has hot music, a boss that's about to climb to the top of the totem pole, Milly, et fucking cetera. But yeah, let's all watch out for GOOD Music, because that compilation is going to be nasty.
I'm going to sleep. I accept your accustations of rambling.